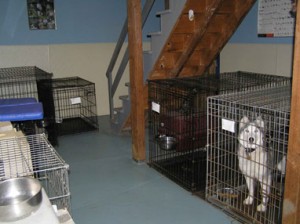 At Northeast School For Dogs we have a small boarding kennel in the lower level of our home. We are able to give your dog the personal attention he needs while you are away. Most kennels let their dogs out twice per day and lock up for the night at 6 p.m. At Northeast School For Dogs we bring the dogs out every few hours to maintain housetraining. Our day starts at 6 a.m. and ends at 10 p.m. (just like home!)
The dogs are housed inside in large cages or crates. Believe it or not, a cage or crate gives a dog a sense of security. Our boarders do not jump, pace or bark when they are here because they're not anxious. We encourage you to bring your dog's bed or blanket so he will be comfortable. Our kennel is extremely clean and quiet. The outside area has large enclosed kennel runs with locks to avoid escaping. We have two large exercise yards where your dog can run and socialize with other dogs. All dogs receive exercise time at no additional cost. A well-exercised dog is calmer and less stressed.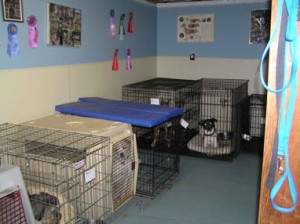 Does your dog get separation anxiety or has he had an unpleasant experience at another kennel? We will ensure that your dog has a pleasant experience while he is here. We spend the extra time needed to make your dog feel like a member of our family in our home. Many kennels charge extra fees for walks, treats, and playtime. We believe that's outrageous! Exercise, affection and treats are included in providing your dog with the best care we can offer. Boarding is $40 per day.

The kennel is located in the lower level of our home so your dog receives nearly 24 hr. supervision. Our home and kennel has a security alarm system for fire, burglary, and carbon monoxide. House training will be maintained because we are able to let your dog outside several times during the day. Your dog will not be forced to eliminate in his cage and therefore will come home cleaner than from most kennels. We let the dogs outside for a final time between 9-10 pm so they will be comfortable all night. (just like home!)
Weather permitting, your dog can spend most of his time outside to enjoy the fresh air. The play area is enclosed with six foot high chain link fence with locks. In our experience, dogs are less stressed in this type of environment. Large commercial kennels tend to be loud and intimidating. The quiet and clean atmosphere makes most dogs feel at home. Once you board your dog here, you won't want to bring him anywhere else.
Ask about our Board and Train Program.  Have your dog trained while you are on vacation.